Spam found on Google.com isn't always that bad!
I was twelve years old at the time
After searching for weeks on Google.com...
'Good summer job'
'How to make a lot of money over the summer'
'How can you become rich at a young age'
'How to start a profitable business'
'Make money quickly with a Summer Job'
I finally found what I was looking for!
I kept the link explaining that Landscape Businesses are an extremely profitable niche to be in (the picture was of a landscape truck and a trailer). Something attracted me to this article... it certainly was not the photograph... well it may have been since I was twelve and any piece of machinery that I had never used before seemed cool. I read on. Seven years later, here I am studying Landscape Architecture. My life path was constructed partially due to an email that was spammed to me...
The e-article/book that was sent to be sort of resembled the following website...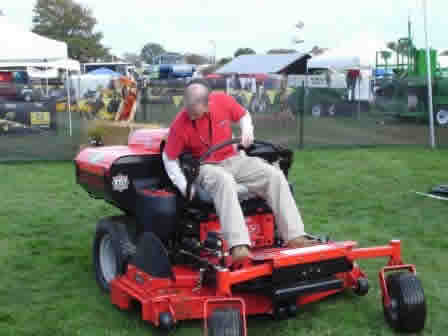 Matt's Lawn Service (RIP- www.matt'slawnservice.com)
Matt's Lawn Care and Landscaping
www.MBLandscapeDesign.com
(in the process of being created).
Thing's Happen For a Reason!
I guess where I'm going with this post is basically trying to get you to believe that things happen at certain times throughout your life for different reasons. Spam comes and goes all the time. You can compare that example to many things in your own life. Friends come and go... Job openings come and go... Ideas come and go... Opportunities in life come and go... and lastly, but certainly not least is the fact that clues, hints, and symbols come and go (like the e-article I came across while searching for a great summer job. I never thought I would be interested in working in the Landscape/Design industry). In reality, I was truly being handed a big hint that this was considerably the best thing for me at that time in my life. It turned out to be just what I was hoping for.
Don't let anything slip by you!
If something even slightly interests you, look into it...
It may just be your calling!
You cannot just simply sit down and try to figure out what you want to do in life...
Your calling has to almost be handed to you!
I was twelve when my future career was handed to me.
I was searching for a way to make money over the summer.
My industry happens to work around the spring/summer months and then into the fall. Sometimes even into the winter.
I was ready to work, in fact I was DYING to work!
The world knew I was ready for the big news,
I was going to be a Landscape Architect in the coming years.
I'm also a slow learner, so finding out what I wanted to do early was and is vital for my future overall success. Something or someone must have known this! Maybe Google knew? It has given me many years to learn and understand the trade, and I've also been introduced to many different, all wonderful people who have guided me along the way.
First off to my Mother, Father and Brother who pushed me to keep going, even in the midst of the summer, when I didn't want to mow lawns since it was so hot outside.
"You made a commitment, you have to fulfill it!"
To my Grandmother who generously gave me an endless budget to work with, in an a circle garden bed, about 5' by 5'.
"I know you can do it Matthew, you just have to put hard work and effort into it."
To my neighbor Antonio Mora and his family who let me work in their garden and always pushed me to never give up, and always strive further.
To my Aunt, Uncle, Cousins, friends and family who always pushed me to strive further.
To every single one of my customers who had the patience and understanding to give me a job at a young age.
Croton Country Gardens ('Cookie')-
Definitely not someone who I would praise(although he does know his plants) but probably someone who I learned the most from. I couldn't thank him enough!
I cannot even begin to thank her and all that she has done for me!
I would definitely not be at the school I am at, nor would I know 'real' Landscape Architecture if it weren't for her!
"The teacher appears when the student is ready"
Chris, at Hilltop Farms Nursery.
who is a Landscape design genius. Although he pursued Marketing as a career, he is probably one of the best Landscaper designers around! He taught me 'fine' design before I was 16. He has also written a book, and is still working on it.
"I truly missed my calling as a Landscape Architect."
Marco from Clean Cut Lawns...
who my family hired to do some heavy landscape work. He came shortly after I viewed the article that I read about Landscape Businesses. He was young at the time and had just created his business. After I was done asking him questions, he finally agreed that one thing he wishes he would have done was to go to school and become a Landscape Architect. What he told me has always stayed in my mind at the times where I was thinking about just creating a business and skipping out on College. Marco's Business is extremely successful today.
I learned "Garden Hose" Garden bed design from him.